The Key Account Managers are in charge of the communication with our clients acting as the primary point of contact, allowing direct and centralized communication from our Hubs in Madrid, Chicago and Miami. This core team coordinates International Desks and local offices, following our clients wherever they operate.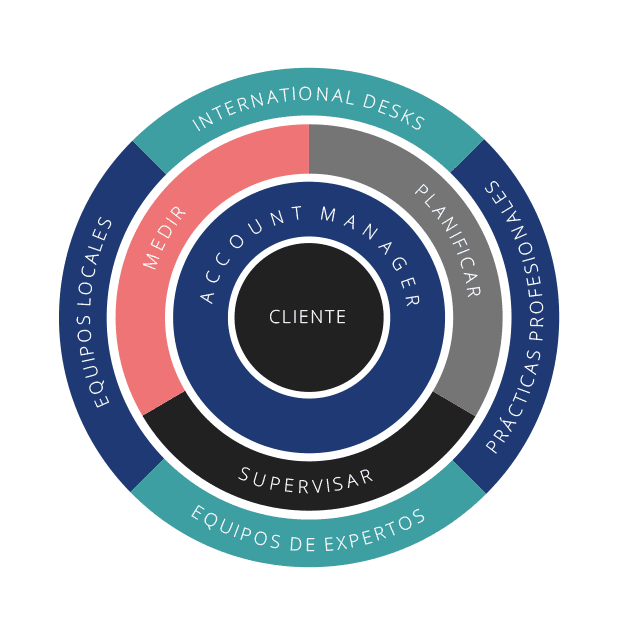 International Coverage with strong local expertise
Offering our services in 50 jurisdictions through our network of affiliatte partners and our international subsidiaries in Spain, France, Ireland, Italy, Portugal, Morocco, Argentina, Chile, Brazil, Peru, Ecuador, Colombia, Panama, Mexico and USA (Chicago & Miami).
Same processes, with the same quality in all countries through our IT MultiCountry solution, our homogeneous methodology, our centralized Intl Desks and our Account Managers Hubs.
A global solution internationally through our One Stop Shop service model in: Accounting, Tax compliance and Payroll Management, becoming an extension of the Finance Departments of our clients.
Do you want to work with us?
BASIC DATA PROTECTION INFORMATION
CONTROLLER: AUXADI CONTABLES & CONSULTORES S.A.; PURPOSE: Send you news, publications, offers and/or services provided by AUXADI; ADDRESSEES: Auxadi Group companies; RIGHTS: Access, rectification, erasure, opposition, restriction and portability, as explained in the additional information; ADDITIONAL INFORMATION: You can consult the additional and detailed information on Data Protection on our website: Privacy and Data Protection Policy; CONTACT: To exercise any of your rights or to consult any doubt regarding data protection, send us an email to GDPR@auxadi.com.