Taking your business global has tax implications.
These implications cover everything including basic corporation tax, transfer pricing, social security, import/export taxes, property levies, withholding tax and VAT. You also need to consider sector specific benefits or charges, depreciation allowances, and payroll requirements. And, with different countries having different tax regimes from your home country, ensuring you're compliant can be even more challenging.
And, having the right technology and processes in place can be costly but vital so that you can manage risk, maintain governance and oversight and ensure data security. You also need a local tax expert on the ground to help you with all your corporation tax accounting and challenges, taking a global perspective so that you can expand your business across borders without any barriers.
Tax compliance (multinational federal, state and municipal taxes)

Official books and Annual Accounts

Assistance in tax inspection and audit

Reviews and claims to tax authorities
Tax automation
We've added the best tax automation technology to our purpose-built accounting platform.
Our tax automation tool allows us to monitor your obligations in real time and keep accurate records; gaining agility, avoiding the duplication of tasks, establishing control processes and guaranteeing absence of errors.
This tax automation process saves you countless hours managing manual tasks allowing your teams to focus on more value-add tasks.
We'll also ensure regulatory compliance in different jurisdictions and give you the strongest guarantee of confidentiality and data security.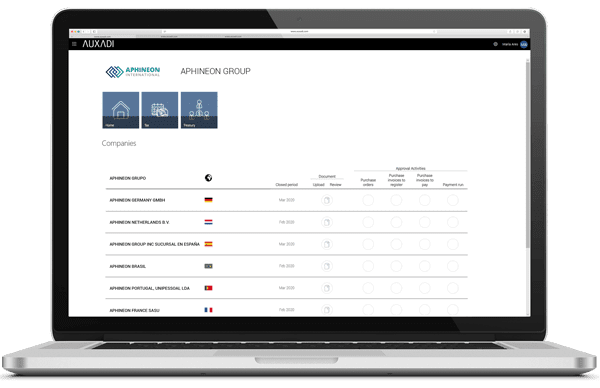 Global corporation tax experts you can trust
With a global team of experts and more than 40 years' experience in Europe and the Americas, we can help you navigate the specifics of local tax regimes, executing and implementing your chosen tax structure and taking care of any tax compliance requirements.
In 2020, we submitted over 26,000 client tax returns, across 50 different tax regimes. Our experts have deep local knowledge of their country's regulations and legislation, across all different sectors. They understand their country's tax system; they know where the traps are, and how to stay compliant.
You can also benefit from our unique MultiCountry IT platform, our cloud-based Microsoft enabled solution, that's flexible, tailored and easily adapted to comply with the accounting and tax requirements in more than 50 countries. You can monitor your data, check your accounting reports, review your tax returns and so much more, all through this single and intuitive platform.
And, as well as making your international tax compliance easier, we can also help you with your accounting, reporting, cash monitoring and even payroll requirements, so you can work with one partner for all your administrative needs.
To find out more about our international tax services, get in touch with our expert team today.