We make life easier for our clients
We offer customized Solutions of International Accounting, Tax & Payroll in 50 countries. Our IT platform, employees, and methodology are in sync with what we do best and enjoy most; being an extension of our clients' accounting department.
Our culture is based on ethics, excellence and exceeding the expectations of our clients. We achieve this through flexible and efficient solutions developed by a motivated, committed, and solid team, with more than 40 years' experience working for multinational companies, Private Equity and Real Estate Funds.

International Coverage with Strong Local Expertise
Offering our services in 50 jurisdictions through our network of affiliate partners and our international subsidiaries in Spain, France, Ireland, Italy, Luxembourg, Netherlands, Portugal, United Kingdom, Morocco, Chile, Colombia, Costa Rica, Brazil, Ecuador, El Salvador, Guatemala, Honduras, Mexico, Nicaragua, Panama, Peru, and USA.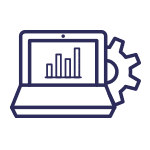 We guarantee same processes with the same quality output in all countries, using our MultiCountry IT solution, our homogeneous methodology, our centralized International Desks and our Account Managers Hubs.
A global solution internationally through our One Stop Shop service model in Accounting, Tax and Payroll Management; becoming an extension of your Finance Department.
What services does Auxadi offer?
In Auxadi, we adapt our methodology, tools and organization to your needs. We provide a global solution, as if our consultants were part of your own Administrative or Financial Departments.
Monitor and manage your international subsidiaries with our MultiCountry online platform
With Auxadi you have access to an online platform that will provide a global and harmonized view of the accounting of your international subsidiaries, with drill down functionality to check support documentation, such as: invoices, outstanding creditors, approve payment orders, manage the payroll processing cycle, etc. Ask for a demo and see how our technology can help you.
Latest news from Auxadi
News, webinars, sponsorships, events: discover everything you need to know about Auxadi and the industry.