8 March is International Women's Day, and this year it does so under the motto #BreakTheBias.
In this spirit, we at Auxadi want to celebrate by highlighting all those women who inspire us and help us improve, every day.
Historical references, family and friends, colleagues, clients, outstanding professionals in the sector… These are the women who inspire Auxadi:
Lidia López,
Head of Talent Management
My mother
"She leads by example, never leaves for tomorrow what she can do today, and she follows the maxim of what is well done looks well done, she is quite clear in her approaches.
Her father told her to be a professional woman, not to stay at home, and she did; she was a decorator throughout her working life, traveling for work (my father too) and I always saw her as an example.
Now, in her retirement, she cooks amazingly and is phenomenal at gardening. She reads a lot and shares time and walks with my father. They are both incredible. What luck I've had."
Verónica del Río,
Manager – Funds
My mother
"Although it sounds like a cliché, the woman who inspires me the most is my mother.
She is a true real-life influencer, whom I would like to look like in the future and from whom I learn day by day. Hardworking and fighting, always in continuous training to give the best of herself in her work and without neglecting her family, even in her worst moments."
María Jesús Álvarez
Payroll Director
Ana Botín
"Ana Botín is a person I do not know personally but the image she transmits and why I consider her an inspiration, is that she is an accessible person in her environment. She's very professional, very prepared with a great training background, always has a smile, gives the image of being very aligned with the values of the firm she represents and, above all, she is very close to employees. She defends femininity like no one else, and is valued for her great qualities. She's not judged for her femininity and leaves a positive mark on all those who follow her."
Jaime Santaella
Manager – Funds
Simon Biles
"Simone Biles is my inspiration. She did not have an easy childhood, her mother was addicted to alcohol and drugs, her father abandoned them, and she and her brothers were adopted by her maternal grandfather. She was sexually abused by the doctor of the U.S. women's artistic gymnastics team.
She overcame all these difficulties and fulfilled her dream, to be the best artistic gymnast in history. For me, is a clear example of overcoming challenges."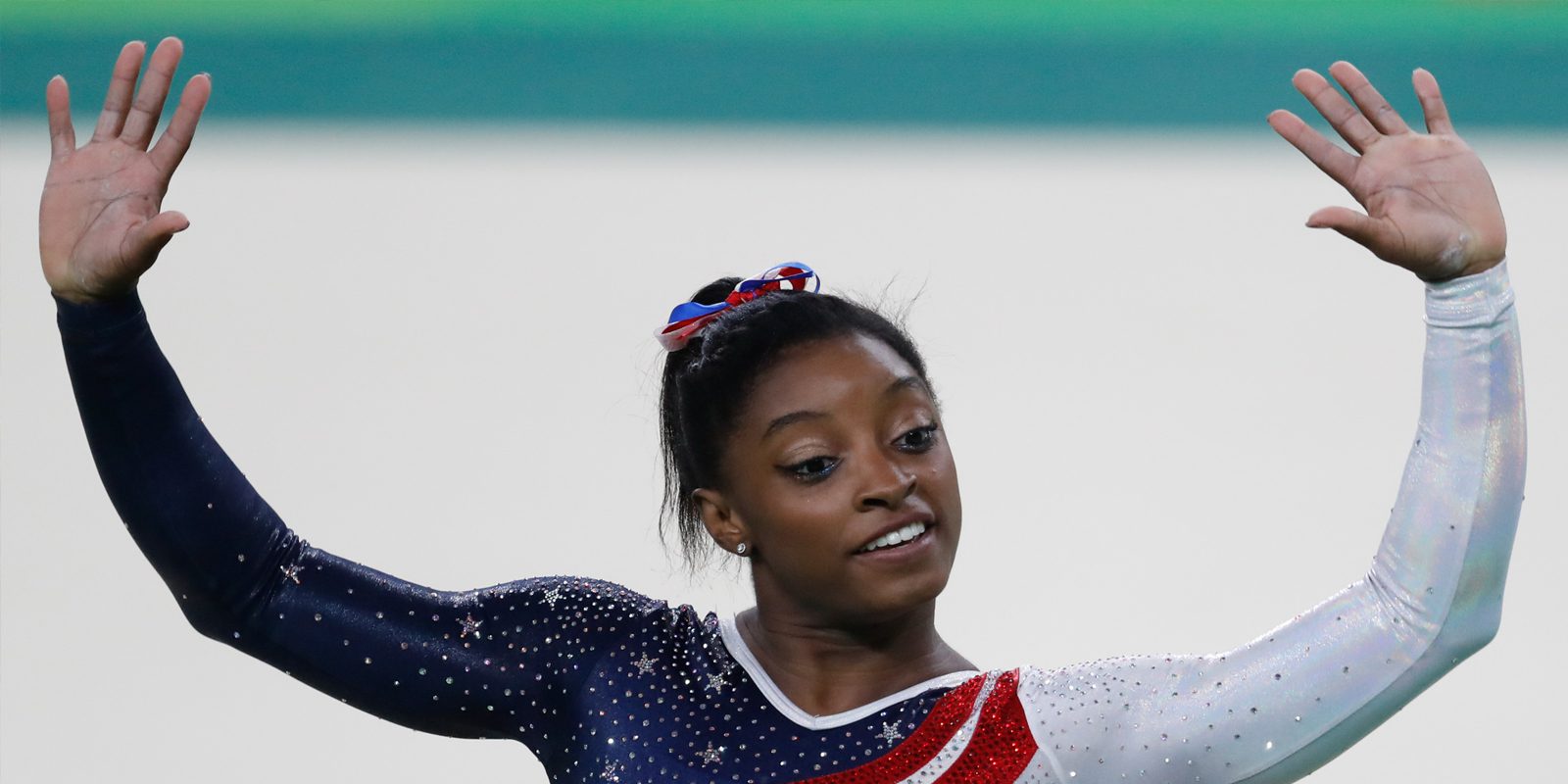 Claudia Nunes
Director
My mother
"My mother has a complicated life story: she lost her mother very young and, since she was 8-years-old, she has had to work in the fields with her father and siblings to get the family ahead, so she couldn't study. She married very young, at the age of 16, and went to live in Sao Paulo.  She did not have a professional career because she dedicated himself to taking care of us, but she has always been clear that study was the best tool we had to change our lives.
In my neighbourhood, most of our friends left school at the age of 13 or 14 to work and help their parents, but my mother always encouraged us not to do the same, even if we needed that help, and she was always looking for support programs for families.  She pointed us to classes from a young age – to free extra courses, English classes, administrative assistant training, professional skills …   Everything I could find!  She forced us to study a lot and told us that we could do everything we wanted, despite financial limitations, if we had focus, patience, values, and we did not accept the circumstances of our environment (which were not easy), because we could be more and better.  It filled us with confidence!
Thanks to my mother, who has never let us give up even if it was not easy, I have been able to study, speak languages, go to university, have a career, live outside my country with a profession …  And when I look back at where I come from and how far I've been able to go, I owe it all to my mother. Not only as a professional, but as a good person: helping the next, with empathy, enjoying life…
Although she did not have a mother to inspire her, she has been able to transmit to her children all this love and strength – not to give up.  There is a phrase that she always says: 'Build a life that makes you feel proud to live, the limit is you.'
Today, when I want to do something and my fears block me, I think of all that my mother has taught me, I am filled with confidence and palante."
María Guadalupe Ramos
Manager – Funds
My mother
"The first person I think of when I have a joy, the first when I have a dislike, when I need advice or help or problems arise from anything.
A fighting woman with a very interesting and open mentality and opinions, despite her way of life. For me she's a perfect example, a heroine, who never falls and is always taking care of us and protecting us without asking for anything, the most generous. Now that she is a grandmother, she is doing it all again."
Karen Rodríguez
Manager
We are all amazing women
"In this life, I have seen many women both professionally and personally succeed and be role models. Some are out of my reach: presidents of the republic of some nation, entrepreneurs, leaders of world organizations, artists of which I like to read…  I can't share a conversation with them, a coffee, share ideas, but my admiration will always exist.  I like to admire real women, my mother, sister, aunts, neighbours, friends who I know fight hard to get ahead, that I can talk to over coffee and sharing stories that enrich my life.
We're all amazing women, we're an improved version of Wonder Woman."
Paola Hernández Barreto
Intl Corporations Ecuador
My mother
"She is the one who has shown me, by example, that everything we propose in life we can achieve and that the age we fulfil our dreams does not matter. She has the strength to be a woman, mother, doctor, friend, architect, dressmaker, mother-in-law, engineer, wife, accountant, economist and a thousand other things – and all without having a degree.
Her kind way of being, her predisposition to help others and often leave herself in the background, makes me understand that all her efforts to move us forward is what makes a strong and fighting woman, and that despite all the difficult moments that life has given her, she finds a way to get ahead and show that God's time is perfect. This is why she is the woman who inspires me every day."
Mari Hietala-David
CMO
Kirsti Paakkanen
"One of the people I really admire is Finnish CEO Kirsti Paakkanen. She is one of the most well know and smartest entrepreneurs in Finland. Kirsti was from a very poor background and moved to Helsinki at the age of 16. She was funding her studies with washing dishes and selling groceries. In 1969 she set-up a female advertising agency Womane which she ran for 20 years. In 1991 she bought Marimekko a small and loss making Finnish design brand in the middle of the recession. With her leadership, hard work and dedication she was able to turn the company around and make it an internationally recognised company listed in the stock exchange. Biggest tragedy in her life was that she was not able to have children. When she passed away in November 2021 at the age of 92 she left all her fortunes to the 'talented youth of Finland'. I admire Kirsti as it's a real testament of what you can achieve if you work hard, take care of your employees are disciplined and trust your intuition."
Holly McKendry
Global marketing & partnership manager
My mother
"From an early age, I have admired everything about her; how she carries herself, her kindness, her bravery, her contagious energy, her love of life…  She taught me to accept others for who they are, to work hard, to live life one adventure at a time, and to always put family first.
She has this incredible ability to light up even the darkest of rooms with a single smile, but it is her empathy that truly strikes me. She has a way of making people feel good about themselves and she shows everyone compassion, regardless of who they are or where they came from.
As I get ready to welcome my own daughter in just a few months, I think a lot about the example my mom set for me, and how I hope to set a similar example for my daughter – inspiring me to be the best version of myself. I hope my daughter will learn to always choose kindness, to work hard, to follow a path that makes her happy, and to live life to the fullest, just like her grandmother!"
Alice Heald
Senior Marketing Manager
Karren Brady
"Karren Brady is an inspirational leader to me due to her strong business accruement and for being a true role model for women looking to have a successful career business. She's well respected by many in the industry – business, TV and media – and is taken seriously by both men and women. She had her first senior role as a Managing Director at aged 23 showing that you can achieve whatever you want if you are driven, ambitious and strong-willed, no matter your age or gender. Karren has been commended for her services to women in business and entrepreneurship and she's someone I strive to be like when it comes to my own career goals and ambitions."