This week Auxadi participated in GRI Spain 2019, an event which brought together the most active local and global investors, developers, banks, and asset managers in Spain for two days of behind-closed-doors discussions on the present and future of real estate. The sixth edition of GRI Spain was held on April 10th and 11th at the Westin Palace in Madrid. Auxadi´s Rima Yousfan, Head of Real Estate & Intl Corporate BPO, and Daniel Garcia Jimenez, Senior Manager of Real Estate, participated in the meeting.  They were joined by a network of high-level contacts from Blackstone, Sareb, Round Hill Capital, H.I.G Capital, Sonae Sierra, Orion, Drago, Brookfield, Kennedy Wilson, ASG, Intu and DEA Capital, among others.
Unlike a typical event or conference, GRI meetings have no speakers or presenters. They focus on presenting topics in different rooms, in informal meetings with moderators in which everyone participates by creating a debate. All attendees are able to present their experiences and points of view on different important or current topics that the GRI Club selects in advance.
During the two days, a range of topics were debated. The event began with a discussion on the economic perspective for 2019, for which the consensus was that we are entering a more mature phase of the cycle. Yet, although we are in a process of deceleration, growth is nonetheless expected for this year.  The discussion then shifted to disruption in the hotel sector, moderated by Brian Betel, Managing Partner of ASG Iberia Advisors, addressing whether the future lies in lifestyle, technology, or services. The event then shifted to look at the real estate market in Madrid and Barcelona, in a session moderated by Felix Llorente, CEO of Wilcox.  The specific focus was the lack of product and exorbitant prices that are influencing investment decisions. After each debate, there were networking sessions with all the participants, and there was a dinner where experiences could be shared among the attendees.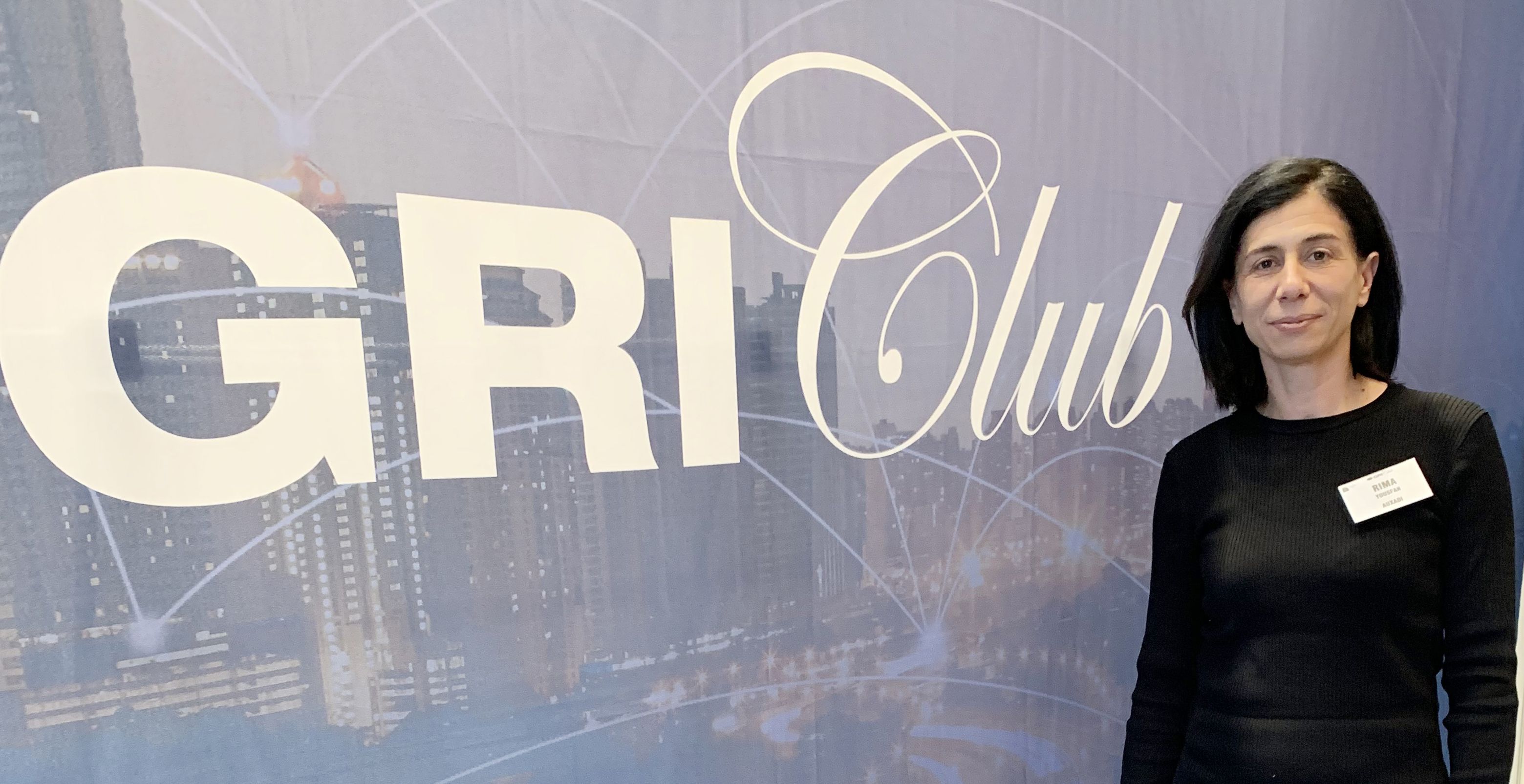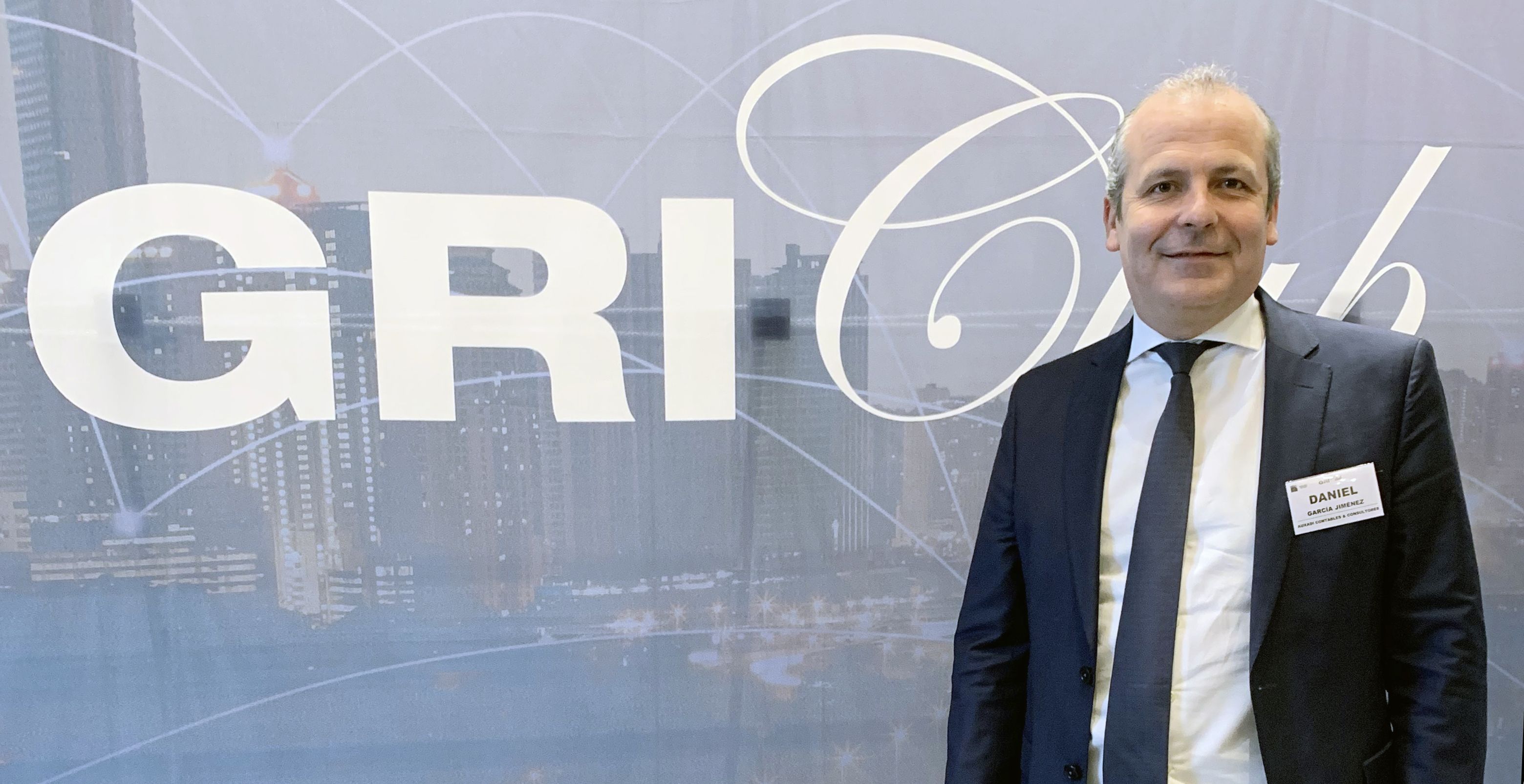 Auxadi´s Rima Yousfan, Head de Real Estate & Intl Corporate BPO, y Daniel García Jiménez, Senior Manager de Real Estate
The second day of meetings addressed even more topics, including:
The Logistics sector, where the focus seems to be on urban centres, leaving behind warehouses on the outskirts of cities.
NPLs & NPAs, where a lot of transactions were closed last year, but this year activity seems to be reduced to smaller portfolios as options are closer to exhaustion.
The Residential sector, where there is an imbalance between supply and demand, and new models such as "co-living" are beginning to appear, mirroring the increased demand in the office sector in the form of "co-working."
The Retail sector, where the focus is on the changes generated by e-commerce as the digital era threatens physical spaces.
This year´s meeting provided many thought provoking topics and plenty of material to carry us to the seventh edition of the event, which will return to Madrid at the Westin Palace in April 2020.
Click here to read more of our insights and analysis on Real Estate.