Success is definitely where preparation and opportunity meet. Today, more than ever, the CFO is in an excellent position to generate a differential impact on the growth of the company. Globalization, the internationalization of businesses, intense regulatory frameworks, opportunities in emerging markets, access to financing, mergers and acquisitions, even pandemics (among other factors), are challenges that demand a great capacity for execution to meet organizational plans and long-term prospects.
A clear example was given in March 2020. With the world effectively halted by COVID-19, Kelly Steckelberg, CFO of Zoom, played a prominent role in managing the short- and long-term financial needs caused by the platform's sudden growth; growing overnight from 10 million to more than 300 million daily conference participants.
Innovations such as Blockchain or the Web3 paradigm (through which DeFi – Decentralized Finance – is breaking into traditional business models), HyperAutomation, AI and Machine Learning, Cloud Computing, Virtual Reality and more, will be transversal – delivering knowledge and opportunities in unserved markets, improving the customer experience, innovating in Data Management and Cybersecurity, strengthening the business architecture, etc.
Here are some of the trends driving transformation in Corporate Finance.

NON-FINANCIAL METRICS
A CFOs field of action and responsibility includes issues like: measurement and transparency when reporting issues of sustainability (avoiding greenwashing); carbon footprint; gender equity; impact finance; green financing; and compliance with the SDGs – Sustainable Development Goals. More, the CFO must be insightful in identifying, analyzing, and managing external events that may impact their industries. Organizations such as the IFRS Foundation are working to release sustainability standards which, together with IFRS financial reporting, aim to give a holistic view of the business.
DEFI – DECENTRALIZED FINANCE
Phenomena like Blockchain and Web3 are generating radical changes for business. On top of automated Smart Contracts and Tokens, the financial industry is being rebuilt – making it decentralized, more secure and, most importantly, giving access to instruments previously unimaginable for a large segment of the population. There are currently more than 1.7 billion unbanked people in the world and new technologies provide incredible opportunities for everyone.
Crypto Assets and DApp (Decentralized Applications) represent a market valued at US$1.77 trillion (according to Cryptocurrency Prices, Charts And Market Capitalizations | CoinMarketCap), with Bitcoin (41.7%) and Ethereum (18.3%) dominant and increasingly present in everyday life, laying the foundations for Decentralized Finance (DeFi).
DeFi presents a host of novel uses for the CFO: from accounting processing and account reconciliations; adoption of cryptocurrencies in the company's value chain; emergence of sophisticated financial products; economic evaluation of projects through Smart Contracts; sources of financing of all kinds (from small businesses to large infrastructures); investment funds through DAOs (Decentralized Organizations); and all the regulatory challenges that these changes entail.
According to Gartner, in 2026, 25% of people will spend at least one hour a day in the Metaverse to work, buy, invest, educate, socialize, entertain themselves
CFOS ARE READY FOR THE METAVERSE
According to Gartner, in 2026, 25% of people will spend at least one hour a day in the Metaverse to develop multiple virtual experiences, such as negotiating digital properties, visiting stores, attending concerts and sporting events, training, participating in conferences, or working as a team with colleagues from all over the world. The Metaverse is set to generate incredible changes to the future of work itself.
The convergence of Metaverses, digital platforms, cryptocurrencies, data analytics, and open / decentralized applications will lead to a new incarnation of the Internet, forcing organizations to prepare for new job roles that do not currently exist.
Organizations will need to hire ecosystem architects from the Metaverse, with expertise in deep technologies such as Blockchain, AI, Machine Learning, Data Science, Computer Vision, Quantum Computing, and experts in high-speed networks; to redesign product and service portfolios, create virtual reality customer experiences, identify new markets and business models.
The CFO, along with other members of the organization, plays a critical role in helping the organization develop a deep understanding of how these digital systems can be integrated into a new coherent and scalable Enterprise Architecture.
Companies have the great opportunity to expand the unprecedented scope of their operations by moving from a digital business to a Metaverse business. According to Maty Resnik of Gartner, "…by 2026, 30% of organizations will have products and services ready for the Metaverse."
While it is still too early to know the investments that will be viable in the long term, CFOs should be taking the time to learn, explore, and prepare for the Metaverse.
DATA, DATA, DATA…
CFOs and finance teams are increasingly using predictive models to make better decisions and mitigate regulatory / investment risks based on gathered current and historic data. The interaction between technology, financial data and a long-term vision will be fundamental. The CFO's ability to lead these initiatives will represent a differentiating factor.
Specifically, a Hyper Automation strategy brings speed, efficiency and cost optimization to the company, and it is expected that DPAs (digital automation processes) will increase their potential by solving more complex problems that involve decision making, such as budget structuring and forecasting. This will free up financial professionals to focus their efforts on higher impact activities.
THE CFO AND "CITIZEN DEVELOPERS"
CFOS looking to accelerate productivity and create novel solutions should be aware of the possibilities offered by "Low-Code" and "Non-Code" tools, which provide a quick way to build custom applications without needing to become programming experts. This can empower Finance teams by turning them into Citizen Developers. Some "Low-Code" and "Non-Code" tools are currently available from Airtable and Zapier Microsoft Power Apps, among others.
"Low-Code / Non-Code" tools are changing the rules of the game, as they easily connect to ERPs, databases, and other control body systems for data download, and other sources of information.
THE TRANSFORMATIVE CFO
Finally, the CFO will work closely with the CEO, Chief Operating Officer (COO) and Chief Technology Officer (CTO) to drive digital transformation and determine new metrics of value for their companies – from ESG and sustainability initiatives to customer and employee experience design.
Those who cannot adapt to change will not take place in the future of finance, the function will be very dynamic around communication, user experience and agility.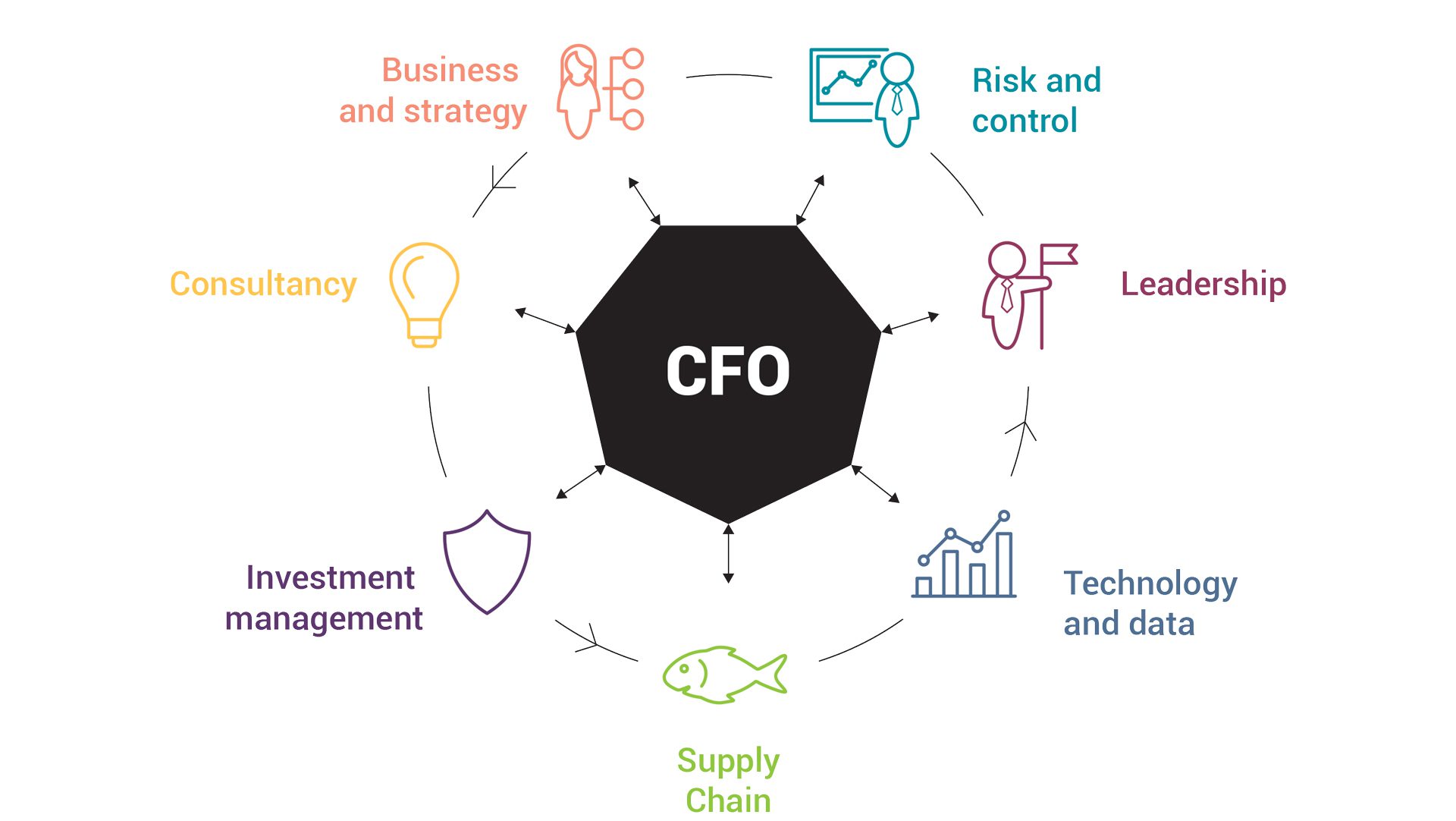 Local Knowledge – International Coverage
Founded in 1979, Auxadi is a family-owned business working for multinational corporations, private equity funds and real estate funds. It's the leading firm in international accounting, tax compliance and payroll services management connecting Europe and the Americas with the rest of the world, offering services in 50 countries. Its client list includes many of the top 100 PERE companies. Headquartered in Madrid, with offices in US and further 22 international subsidiaries, Auxadi serves 1,500+ SPVs across 50 jurisdictions.
All information contained in this publication is up to date on 2022. This content has been prepared for general guidance on matters of interest only, and does not constitute professional advice. You should not act upon the information contained in this chart without obtaining specific professional advice.No representation or warranty (express or implied) is given as to the accuracy or completeness of the information contained in this content, and, to the extent permitted by law, AUXADI does not accept or assume any liability, responsibility or duty of care for any consequences of you or anyone else acting, or refraining to act, in reliance on the information contained in this chart or for any decision based on it.