AUXADI is pleased to announce that it has incorporated Inflexion, the mid-market private equity firm investing in high growth entrepreneurial businesses, in its shareholders' structure in order to support its growth and international expansion strategy. The investment, representing a 40% stake in Auxadi, is being made by Inflexion's dedicated minority investment fund, Partnership Capital II, and is Inflexion's first investment in Spain following other successful investments in Europe.
Inflexion's entry joins the 16 million euros financing operation that AUXADI recently closed with BBVA to boost its growth and continue developing its multi-country technology platform.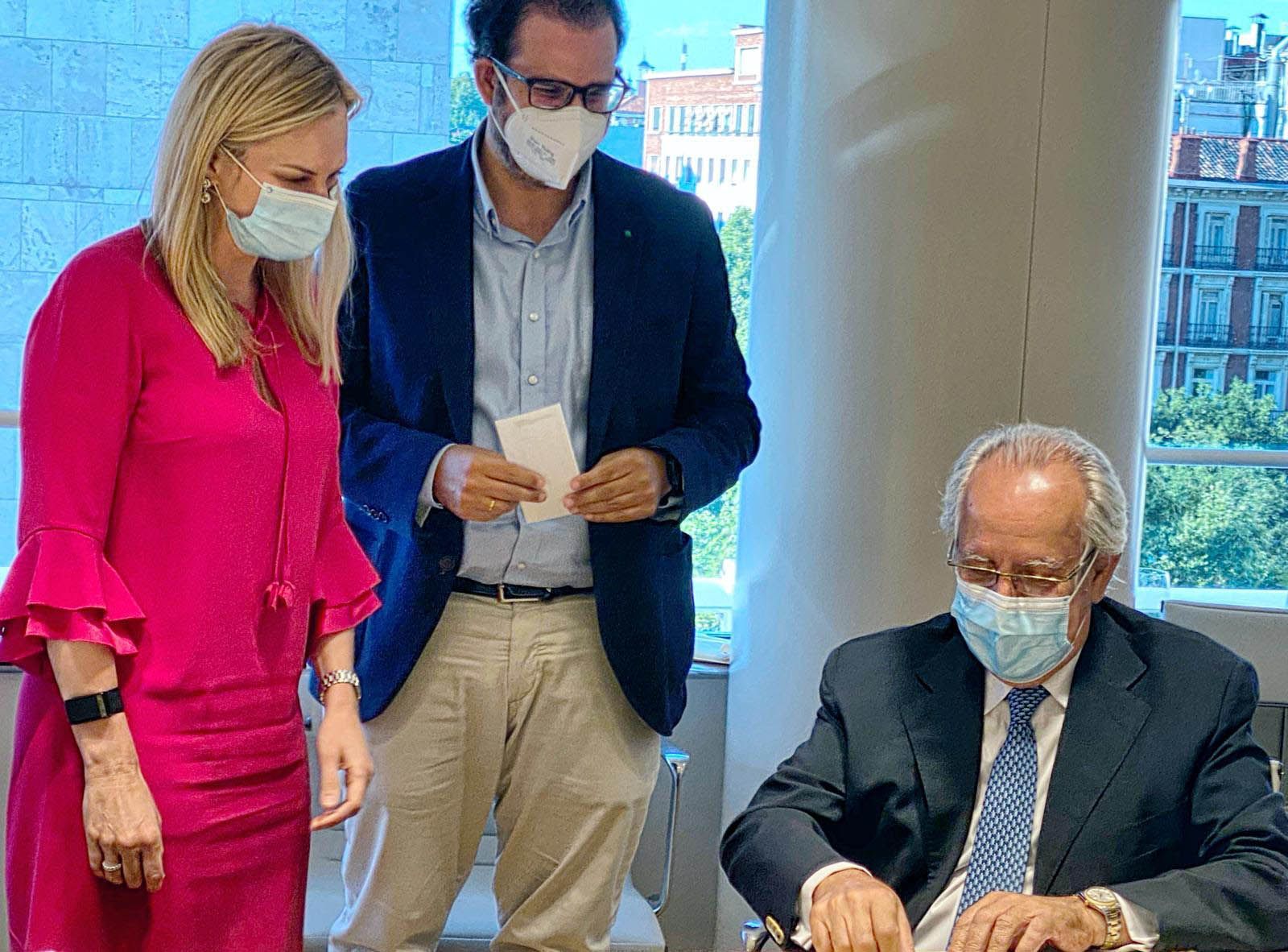 From left to right: Florencia Kassai (Partner, Inflexion); Víctor Salamanca Cuevas (CEO, AUXADI) and Víctor Marcelino Salamanca Carrasco (Founder and Chairman of the Board of Directors, AUXADI).
AUXADI was born in 1979, founded by Victor M. Salamanca Carrasco and Emilio Llamas Castaño. In 2009 a generational change took place in the management of the company, with the appointment of Victor Salamanca Jr as the current CEO of the Firm. Under his leadership, AUXADI has experienced an exponential growth reaching an estimated turnover of c.30 million USD by Sept. 2020, representing a 200% fully organic revenue growth in the last five years.
In 2013 the company began its internationalization strategy through Latin America, Europe and the United States, focus on technology as key differentiator; a process that will now be reinforced Inflexion. AUXADI, with headquarters in Madrid and a Multicountry HUB in the US, counts with 16 international subsidiaries covering more than 50 jurisdictions and serving approximately 500 clients, including major multinational companies, as well as international real estate and private equity funds.
Victor Salamanca, AUXADI's CEO, highlighted that, "we are excited to be partnering with Inflexion as we embark on a new chapter in our company's history. We knew as soon as we met Inflexion that it was the right partner to support our international expansion due to their strong experience in the sector, proven transaction skills and global presence. We look forward to working closely with the Inflexion team to expand our business both in our current markets and in new territories, by being true to our culture and keep developing our teams based our principle of promotion from within".
Simon Turner, Managing Partner of Inflexion, added that "We are delighted to be partnering with Auxadi to support the next stage of the company's growth. We have a deep understanding of this sector and the right skills and expertise to aid the company's international expansion. Auxadi has built a leading, fast growing business with an impressive client base and a market-leading technology suite. We are excited to be supporting Auxadi to bring their offering to more countries and new customers".
Last December, AUXADI celebrated its 40th anniversary, a milestone that now complemented with Inflexion's incorporation, reinforcing its growth strategy and its value proposal based on its wide international geographical footprint covering 50 countries, the consistency in the execution thanks to its multicountry technological suite and its shared services center in Madrid, and its service delivery model thanks to its MultiCountry Managers Hubs located in Spain and/or the United States. All of this with one goal in mind, as stated in Auxadi's mission, to make life easier for its clients.