The Key Account Managers are in charge of the communication with our clients acting as the primary point of contact, allowing direct and centralized communication from our Hubs in Madrid and Chicago. This core team coordinates International Desks and local offices, following our clients wherever they operate.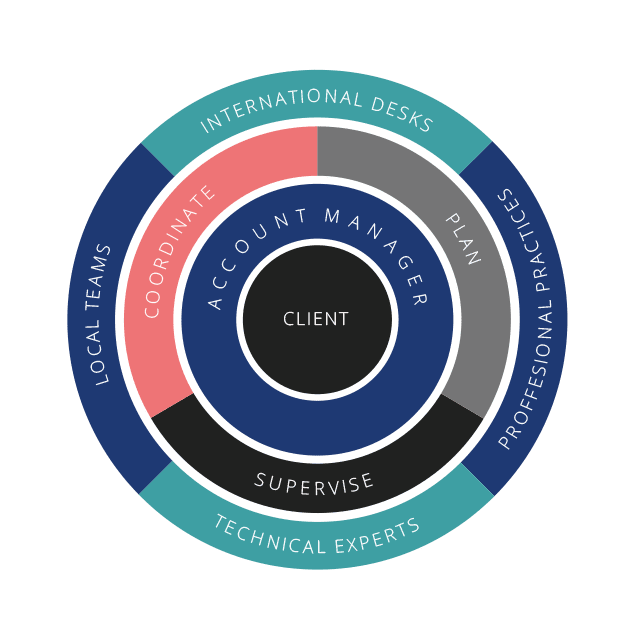 International Coverage with strong local expertise
Offering our services in 50 jurisdictions through our network of affiliatte partners and our international subsidiaries in Spain, France, Ireland, Italy, Luxembourg, Netherlands, Portugal, Morocco, Argentina, Chile, Brazil, Peru, Ecuador, Colombia, Panama, Mexico and USA (Chicago & Miami).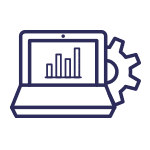 Same processes, with the same quality in all countries through our IT MultiCountry solution, our homogeneous methodology, our centralized Intl Desks and our Account Managers Hubs.
A global solution internationally through our One Stop Shop service model in: Accounting, Tax compliance and Payroll Management, becoming an extension of the Finance Departments of our clients.
In Auxadi, we adapt our methodology and tools to our client's needs, providing a global solution internationally becoming part of our clients´ Finance Department.
More than 70% of our client portfolio ask us for an integrated solution covering Accounting, Reporting, Tax Compliance, Payroll Management, Cash Management, and other administrative related services.

We help over 1,000 companies in their international expansion.
Our Service Delivery Model
Discover in this video how we make life easier to our clients.
Accounting and Administration
Accurate accounting information is increasingly relevant to the management of business. Auxadi has more than 40 years of experience in the outsourcing sector.
The administrative management of payroll and HR is one of the most delicate areas of every company. In Auxadi we manage around 30,000 payrolls a year, under absolute confidentiality.
Investing in good advisers to fulfill tax obligations, provides great security for your business. We are experts in accounting and tax compliance as well as into a proper advice on day to day queries.
Our Recruiting and Staffing solutions allow you to have in your office accounting and tax professionals completely adapted to your needs and requirements of your company.
Auxadi upgrades your business through a digital platform integrated with Microsoft tools such as : Office 365, Dynamics NAV, Power BI, Azure and much more. Discover Next
Get access to Auxadi corporate materials and technical guides to know more about us.
Do you want to work with us?
We have already helped more than 1,000 companies in their establishment or startup phase. If you are also interested in working with us, fill out the form below. We will answer you as soon as possible.