International coverage in 50 countries
With Hubs in Madrid and Chicago, our 15 International subsidiaries and our network of affiliate partners we provide services in a total of 50 jurisdictions.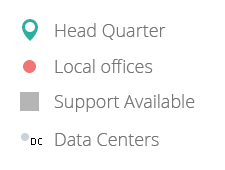 Do you want to work with us?
We have already helped more than 1,000 companies in their establishment or startup phase. If you are also interested in working with us, fill out the form below. We will answer you as soon as possible.
BASIC DATA PROTECTION INFORMATION
CONTROLLER: AUXADI CONTABLES & CONSULTORES S.A.; PURPOSE: Send you news, publications, offers and/or services provided by AUXADI; ADDRESSEES: Auxadi Group companies; RIGHTS: Access, rectification, erasure, opposition, restriction and portability, as explained in the additional information; ADDITIONAL INFORMATION: You can consult the additional and detailed information on Data Protection on our website: Privacy and Data Protection Policy; CONTACT: To exercise any of your rights or to consult any doubt regarding data protection, send us an email to GDPR@auxadi.com.