XII Auxadi Charity Indoor Soccer Tournament
This year we have set out to raise 40,000 euros that will be earmarked to Down Madrid in order to help them in a project which aims to reduce the digital gap, through training and formation for children, adolescents and adults with intellectual disabilities. Auxadi commits to donate double the amount collected in the tournament. You can participate in different ways: signing up your team, sponsoring the tournament or helping us in order to spread the word through social networks. You can also donate directly through migranodearena.org. Do you want to join our cause?
Down Madrid seeks to improve the quality of life of people with Down syndrome or another type of intellectual disability, in order to achieve their full family, school, work and social integration. It develops actions aimed at both the assistance, training, social and work integration of people with Down's Syndrome and other intellectual disabilities and their social and family environments.
All profits collected from the tournament as well as contributions received will go entirely to Down Madrid. With this donation, we want to support Down Madrid in its project to reduce the digital gap, through digital training and formation for children, adolescents and adults with intellectual disabilities.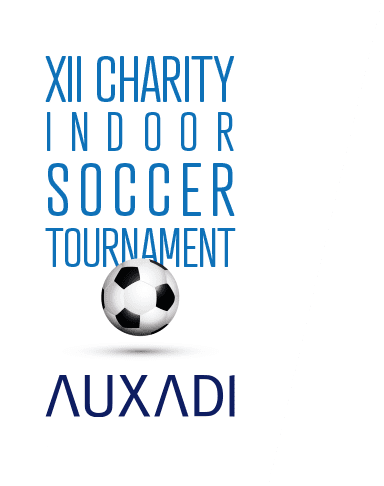 Three phases:
Group phase, semifinal and final
Team Donation to
Down Madrid.

To participate in the Tournament, teams submit a fee of 400€ which will be donated entirely
It's all right; you can still participate! This initiative is open to anyone who wants to collaborate with their own grain of sand.
BASIC DATA PROTECTION INFORMATION
CONTROLLER: AUXADI CONTABLES & CONSULTORES S.A.; PURPOSE: Execution of the commercial relationship; LEGITIMATION: Consent of the data subject; ADDRESSEES: Auxadi Group companies; RIGHTS: Access, rectification, erasure, opposition, restriction and portability, as explained in the additional information; ADDITIONAL INFORMATION: You can consult the additional and detailed information on Data Protection on our website: Privacy and Data Protection Policy; CONTACT: To exercise any of your rights or to consult any doubt regarding data protection, send us an email to GDPR@auxadi.com.
Auxadi Awarded "Most Committed Company" at Migranodearena.org´s Awards for the second year in a row
The social impact crowdsourcing platform, Migranodearena.org (¨My grain of sand¨), recognized, with the 9th edition of their Social Impact Awards, the best social crowdfunding campaigns of 2019. Auxadi received the designation of "Most Committed Company," which includes a €1,000 award for our charity partner, Fundación Aprender, to further support their project. This is the second year in a row that the firm is awarded with this prize.