Internationalization Breakfast. CFO and the challenges of internationalization in Latin America
Keys in the legal, tax and accounting fields. Analysis of Brazil, Colombia, Mexico, Peru and Chile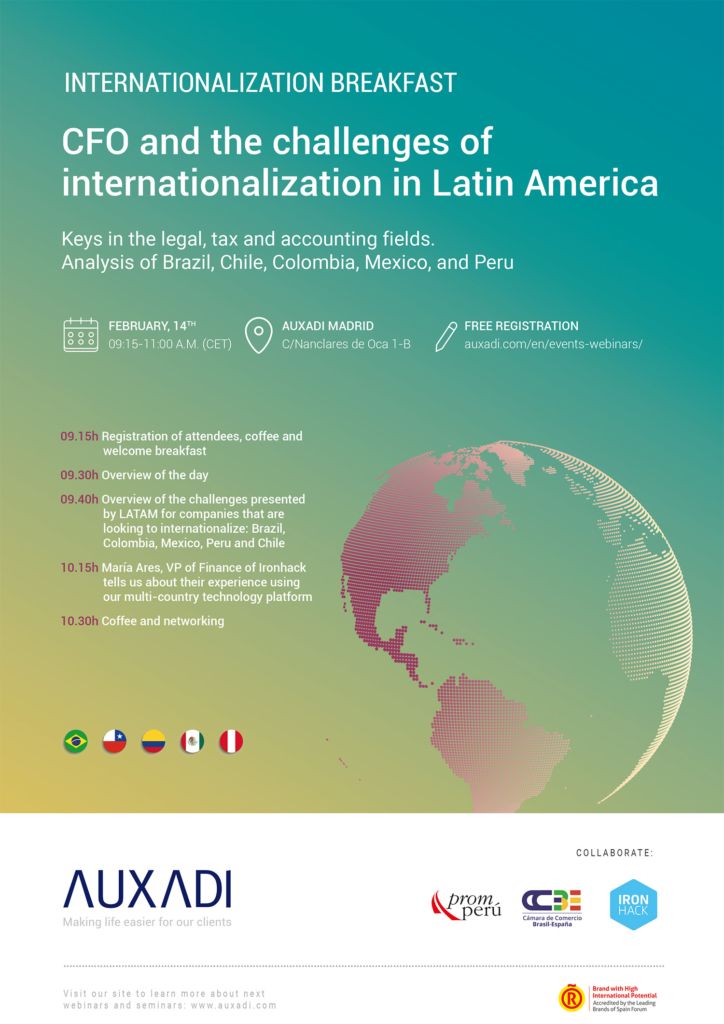 ---
February 14
/
09:00
–
11:00
CET
---
From the initial decision to the day-to-day management regarding fields such as accounting or tax compliance, the CFO's role in the internationalization processis key. The CFO Barometer´s recently published data which shows that 90% of CFO´s play an active role in the international process reaffirms this.
With this in mind, we will be celebrating our Internationalization Breakfast, in which we will find out about the key challenges that must be taken into account when expanding into LATAM.
Here, our Country Managers will explain the intricacies of Brazil, Colombia, Mexico, Peru and Chile.
In addition, we will analyze the success story of Ironhack: María Ares, VP of Finance, will tell us first-hand their day-to-day in international management through our multi-country platform, which allows them to standardize processes and consolidate all data, integrate procedures, people and results.
Organizer: AUXADI
Collaborate: Prom Perú, Cámara de Comercio Brasil-España, Camara Iberoamericana de España de Comercio, Industria, Transporte, Energía and Minas y Iron Hack
Languaje: Spanish
Location: Auxadi Madrid