International Expansion Services
Companies often face many obstacles in their internationalization process, from a lack of tax compliance, accounting and legal obligations, to cultural or business protocols. Therefore in Auxadi we have created a comprehensive model designed to offer our customers a safe and centralized management of their financial/administrative department, ensuring the same quality and the same process in all geographies in which our clients will operate under a single point of contact.
Quality and Satisfaction are our KPIs to become partner of our customers, being the market leader in value added Outsourcing solutions for multinationals in Europe and Latin America.

International Coverage with strong local expertise
We cover all jurisdictions through our network of partners and our offices in Spain, France, Ireland, Italy,  Portugal, Morocco, Argentina, Chile, Brazil, Peru, Ecuador, Colombia, Panama, Mexico and USA (Chicago & Miami).
We guarantee, same processes, with the same quality in different countries through our IT  Multicounty solution, our homogeneous procedure and our Intl Desks in Madrid.
We offer an integral solution at an international level through our One Stop Shop solution to your needs in: Accounting, Tax compliance and Human Resources, becoming the Finance – Administrative Department of our clients.
Comprehensive model in all geographies
The Key Account Managers are in charge of the dialog with our clients and are the primary point of contact, allowing direct and centralized communication. This core team also coordinates International Desks and local offices. These are teams of professionals officially authorized to practice as accountants in their respective jurisdictions, with work experience in the Spanish Market and also in their home countries jurisdictions.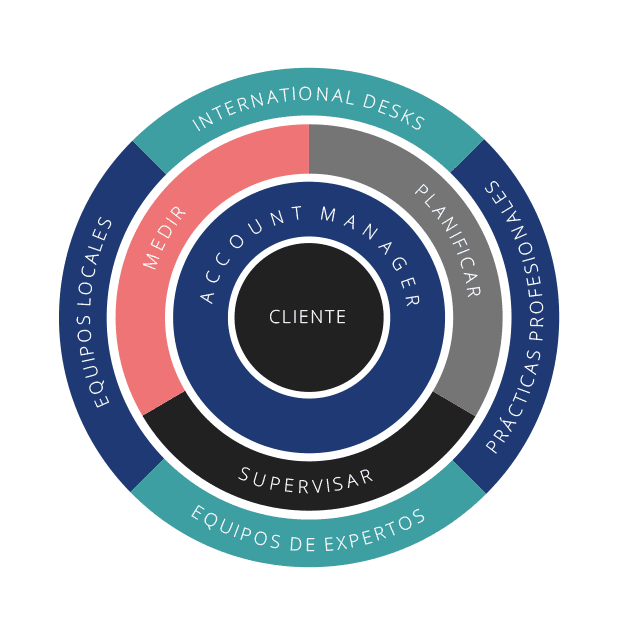 Do you want to work with us?
BASIC DATA PROTECTION INFORMATION
CONTROLLER: AUXADI CONTABLES & CONSULTORES S.A.; PURPOSE: Send you news, publications, offers and/or services provided by AUXADI; ADDRESSEES: Auxadi Group companies; RIGHTS: Access, rectification, erasure, opposition, restriction and portability, as explained in the additional information; ADDITIONAL INFORMATION: You can consult the additional and detailed information on Data Protection on our website: Privacy and Data Protection Policy; CONTACT: To exercise any of your rights or to consult any doubt regarding data protection, send us an email to GDPR@auxadi.com.