Claudia Nunes dos Santos joined Auxadi in 2013 as part of our International Desk, to help international clients expand into Brazil – a task where speaking multiple languages helps enormously.
In her current role as a Senior Key Account Manager, she works with clients in all kinds of markets and sectors, as well as providing training, guidance and mentoring to our global teams. She recently successfully completed the Management Development Program at IESE Business School while working day-to-day at Auxadi.
She took time out of her busy day to tell us about herself and impressions on current global business opportunities and conditions.
Raimundo Diaz (RD): Thanks for taking the time, Claudia. Can you tell us a little about yourself?
Claudia Nunes (CN): I was working as an auditor in Brazil, then moved to Spain and started work at E&Y. Moving countries is very complicated with lots of challenges. As life settled, I got married and started thinking about my professional life within the challenge of living in another country.
I had heard of Auxadi and heard they were opening a Brazilian desk. I was excited – especially about being able to work with Brazilians and having that link with my home country. I met with Victor and he told me about the project – I would be the first member of the desk and would build the team and processes. It sounded very interesting and challenging and I started February 2013.
Having been an auditor before, I was used to looking at the final product. But, in this role at Auxadi, I would be a part of the product development myself. Here, I could see the whole process, I could work on the process and help improve the process.
I really enjoy my role and the people I work with. At Auxadi, you're not just a number.
RD: You primarily work with clients expanding into LATAM and Europe. Based on your experience, what do you think they find most challenging while crossing borders?
CN: Culture, I think.
I heard it a lot when I first came to Europe – you don't just have challenges with the language but with the culture – even the way of communication. Culture impacts us personally and in our professional working environments.
I'm a very empathic person and work hard to understand other people, the way they like to work and their situation. Technical skills are different from country to country, but these can be learned. Understanding people and developing strong relationships is where the challenge often lies. If you don't learn the culture and adapt… you can learn a lot, but it can be difficult!
RD: Have you seen evidence of market pickup since COVID-19? Are there any trends you can mention?
CN: I've seen a lot of movement lately. People want to do things now.
At Auxadi, we've started doing events and breakfast sessions and people are interested. With many countries across the globe being locked down for many months, people miss in-person interaction! The challenge is rebuilding connections. I think we're going to see a lot more personal interactions and in-person events as the world reboots.
People's priorities have changed a lot in lockdown – everyone is thinking about their personal and professional goals. Personal connections with people whether in personal or working life are very important now.
A lot of my clients are talking mergers, expanding by purchasing subsidiaries in other countries. I'm seeing lots of movement of companies – and a trend right now is European infrastructure companies going into LATAM.
US companies are coming to Europe. LATAM companies want to sell their unique products, so generally don't look at mergers. I see more going from Europe to LATAM right now.
Everyone wants to move now the pandemic is weakening – a lot of clients are looking to maximise new opportunities for growth.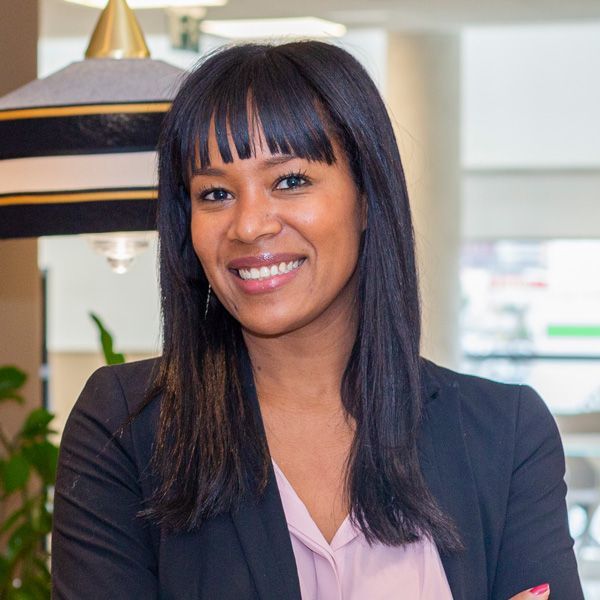 "We fully support the growth of all our employees, building on our talented people and developing them to improve their skills so they can enjoy their job to the fullest. "
Claudia Nunes
Senior Key Account Manager
RD: In your view, where are the biggest opportunities for expansion in LATAM and Europe?
CN: Infrastructure, for sure.
In my personal life in Brazil, I saw a lot of people with poor services and connections. People would have to go to the centre to work, and with lockdown there's no connection at home so they cannot work from home. A lot of estates still need a lot of infrastructure and tech improvements.
Renewables are another key opportunity – there are a lot of zones to be improved.
RD: What is it about Auxadi that makes us best placed to help these clients?
CN: I think Auxadi is very experienced with many different projects in many sectors, including technology, renewables and services. And we're servicing clients in more than 50 countries.
We can help everyone no matter where they're based; from Hong Kong to France to Guatemala – we're well covered globally.
Culture matters a lot, and clients find it very helpful that we have knowledgeable staff on the ground in so many countries.
But the technical side is where we shine – we can compare EU and LATAM in ways the client can understand, in ways that make sense to them. We know the countries we work in, we can easily explain the differences of each country.
The other thing is our commitment. We've been in business a long time and are committed to the company and our clients. Victor used to tell me all the things he wants to do and, nine years later, he's done all the things he told me!
RD: You've been working with our MultiCountry technology for quite a while and you frequently give demos to our clients. What do you think are its biggest strengths? What capabilities of the platform do you see clients using the most? How does it differ from anything else in the market?
CN: The best and most important thing is that our clients can control all their companies in the same environment on the same platform – all centralised. The fact that they don't have to use Excel to compare Brazil to Spain is very impressive and very useful.
It's a unique combination of people, know-how and platform and very powerful in how it can benefit our clients!
One platform that shows real-time data from all their companies. One login, and all the data is there.
Our clients really value not having to depend on a third party to send their own information. Having the tailored access and control of the information – it's their data and they should be able to access it whenever they wish. Our system lets them do that.
Independent control of their own information is a thing our clients really value. They really appreciate that they can see everything in one place.
RD: Claudia, you're a perfect example of career growth at Auxadi – you've combined your training with your day-to-day work at Auxadi over the last year. In your experience, does Auxadi fully support professional development?
CN: There are a lot of big opportunities within Auxadi. I started as a Supervisor, then Manager, then MultiCountry Manager, and now am a Senior Manager. I have learned a lot!
As a company we're very flexible, and let you do things you're interested in. For example, I really like to talk – being on the commercial side and interacting with the clients. Auxadi identified that and trained me to do it better – allowing me be happy in my professional life.
Everyone has their own unique strengths and Auxadi identify and catch your talent. We don't see employees as 'Staff Member 211' – everyone who works here is valued for their own unique skills.
For me, Victor motivated and incentivised me to study more; improving myself and my skills, and bringing those skills to Auxadi.
We fully support the growth of all our employees, building on our talented people and developing them to improve their skills so they can enjoy their job to the fullest.
RD: You've got two young kids – how do you balance career and homelife?
CN: I got pregnant three months after I started – and that's the moment when I really fell in love with Auxadi!
I was fully supported by both my team and management – I found it very easy to balance work and home. We have a lot of flexibility and are allowed to leave the office early to pick up the kids. Being a family company, Auxadi know how important family and having a work-life balance is. They fully recognise and support the family responsibilities.
I really like what I do, I enjoy my job, but when I'm really stressed I can stop and enjoy my kids (5-year-old boy, 7-year-old girl), and take a breath.
Auxadi were fully supportive, and proved our flexibility is key. Family is incredibly important, and we're incentivised to look after our people. It's part of our culture.
 RD: And finally – what do you do when you're not helping clients? What do you enjoy outside work?
CN: I find I am a person with a professional life, and a different personal life.
I love boxing and running, I love being with my friends.
Boxing takes total concentration, and it's great to be able to forget about everything and concentrate only on the training. It closes your mind to everything, your thoughts have to slow down. It's the perfect stress release.
I love to go out with friends and have my moments of relaxing. I love to go out for lunch – the food in Spain is amazing!
RD: Claudia, you're a perfect example of what can be achieved at Auxadi. Thanks for sharing with us!
Local Knowledge – International Coverage
Founded in 1979, Auxadi is a family-owned business working for multinational corporations, private equity funds and real estate funds. It's the leading firm in international accounting, tax compliance and payroll services management connecting Europe and the Americas with the rest of the world, offering services in 50 countries. Its client list includes many of the top 100 PERE companies. Headquartered in Madrid, with offices in US and further 22 international subsidiaries, Auxadi serves 1,500+ SPVs across 50 jurisdictions.